If you are someone who runs a business, leads an emerging startup, works at a managerial position, or are experimenting with a new idea, you will agree that the one thing in common is the tendency to maximize innovation and growth with optimal yet pocket-friendly services at your disposal. Many decisions are driven by this tendency and one that has been symbolic over the years is the dilemma over in-house vs outsourcing product development.
In-house vs outsourcing product development – what does it look like?
In-house product development
Traditionally, businesses developed and designed their own products in-house from scratch.
This process includes market research, conceptual design, product engineering, prototyping and maintaining machinery or other tools. To achieve this, organizations either hire staff with expertise in each of these key areas or make do with the staff they already have on the payroll.
Outsourcing product development
Outsourcing product development means hiring a party outside a company to perform services and develop products that traditionally were performed in-house by the company's own employees and staff.
It includes services ranging from establishing product and technology strategy to UX design and custom software development and ongoing product iterations. Each party/agency offers different services and specialities to help clients turn their ideas into reality.
Many businesses find in-house development effective and dodge outsourcing product development for many reasons such as:
A feeling of an inability to control and manage the development process
Fear of the loss of security and intellectual property ownership
Worry that the innate company culture and perspective that gets baked into products will be missed by an external agency.
However, times have changed.
Deloitte's 2020 Global Outsourcing Survey pinpoints a clear progression towards outsourcing. Firms are likely to learn to accelerate outsourcing as they learn to collaborate in a world where speed, quality, flexibility, and cost are more important than a physical location
Besides, COVID-19 plays an important role here, in dispelling the idea of a close-knit working environment and the necessity of an on-site availability of resources for a trusting and efficient business. Remote working culture is being embraced and encouraged and this is likely to lead to an increase in outsourcing.
"Overall, outsourcing decisions will play a significantly more strategic role in short-term resilience and long term growth."

–Deloitte's 2020 Global Outsourcing Survey.
A lot of factors drive the decision- making and it may sometimes boil down to 'it depends'. But, let's look at the key benefits to figure out why outsourcing is right for you?
Benefits of outsourcing product development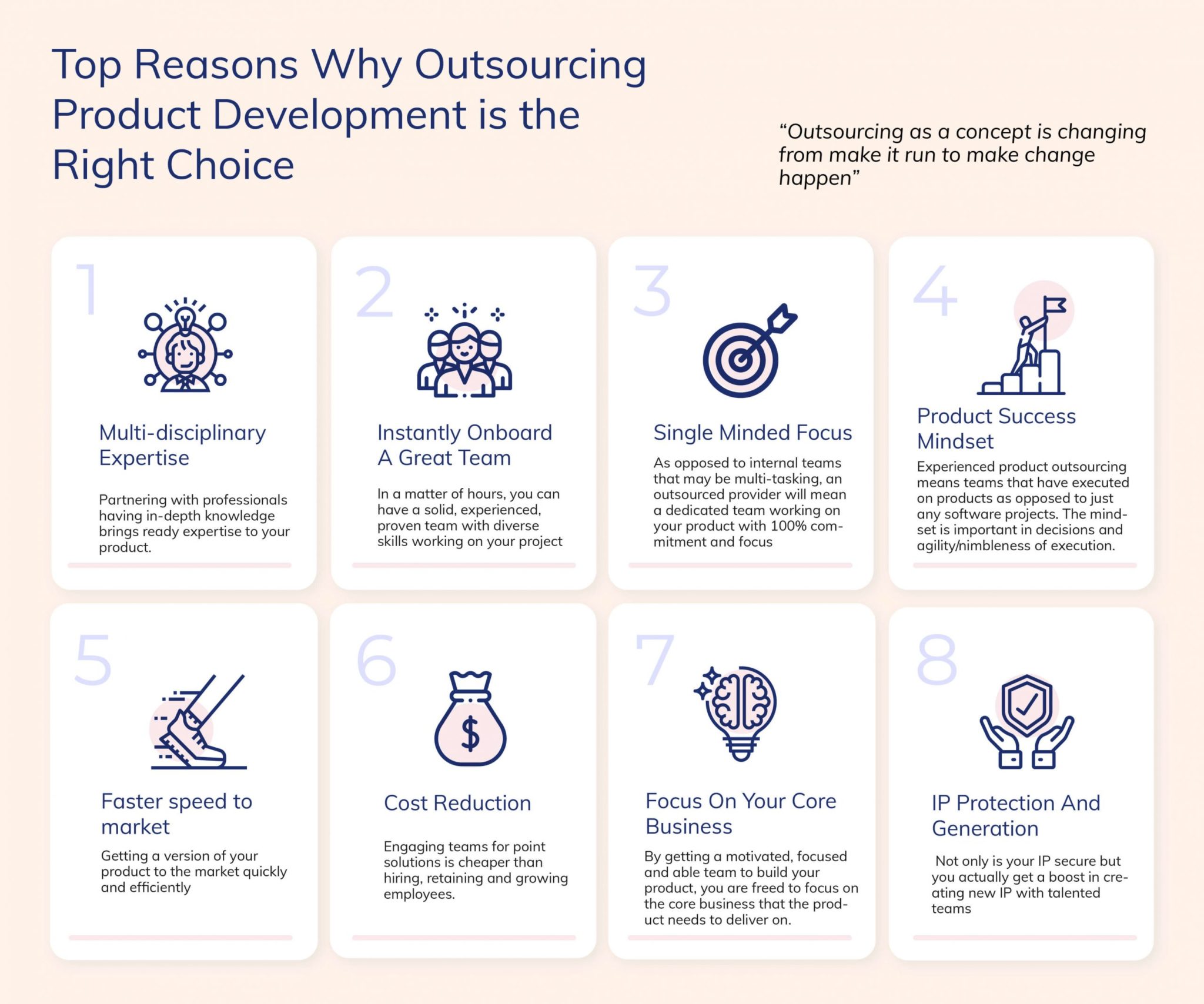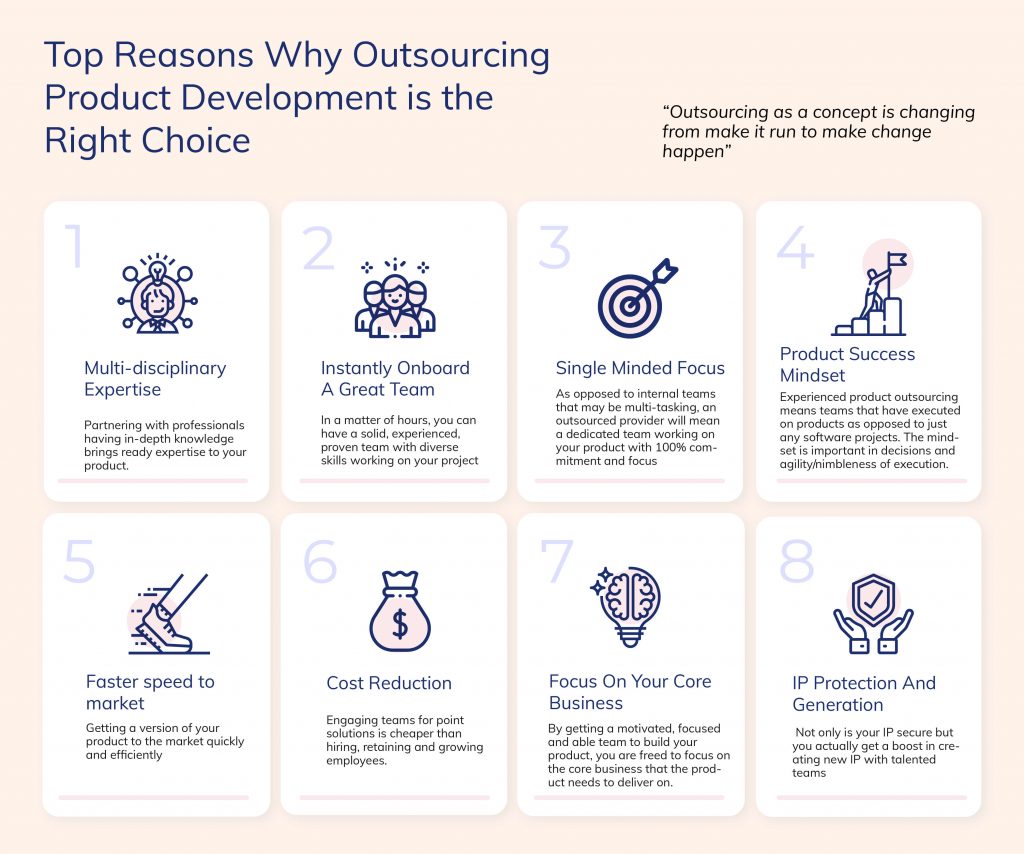 1. Multi-disciplinary expertise
Developing a product requires multiple diverse activities such as:
Product management– Deciding what the product features are
Technology leadership – Outlining a technology strategy that grows with the product
UX design– Designing a fantastic user experience
Crafting a technical design
Technology architecture– Security, and interfaces
Development – Developing the product using different languages for front-end cloud, mobile apps and so on
Quality assurance– Testing the product and deploying this to production (DevOps)
Growth marketing– Growing the product and managing sales
Any company, whether a startup or already established, is hard-pressed to have all of these disciplines and expertise readily available to dedicate to the new product.
This is where product development agencies can help.
When you outsource your product development by hiring an agency, you are working with professional experts who have in-depth knowledge about the disciplines, emerging market trends, design practices, software stacks, and methodologies required to enable a collaborative multidisciplinary workstream to come to fruition.
Usually, an agency offers multiple services. For instance, you can approach an agency with just a brief idea, problem statement or a vision and you have the access to an entire package of services ranging from UI/UX design, CTO level strategy, architecture, product development, quality assurance and DevOps.
Thus, you can call it your one-stop solution for your technology-related needs.
2. Instantly onboard a great team
All successful products have great teams. So, your product should have a great team to have a chance of success. But therein lies the challenge.
Let's face it. Hiring talented people is a challenge for any company. Hiring talented people who work together as a rock-star A-team is a long drawn out process with multiple misses before a hit.
Engaging a good product development mitigates this problem. In a matter of hours, you will have a solid, experienced and proven team with diverse skills working on your product.
This team can have dedicated members working on your product 100% of their time or it can have part-time members coming in only when their expertise is needed. Moreover, you can ramp up and ramp down the team on short notice.
Imagine getting the value of high-power CTO or architects or UX designers only to the extent desired. These roles play a big part in the product in the initial stages and then are needed on a part-time basis to monitor and mentor.
Why bring on dedicated employees when you can outsource and get as-needed, on-demand expertise that knows how to work together as a team?
3. Single-minded focus
In the early days of a new product, in-house teams typically consist of people sourced from other, active projects. Very often these are people who are now multi-tasking. They continue to pay attention to their existing active project and are partially focused on the product.
Competing priorities and pressures of multiple responsibilities mean that you never have the full mindshare of the people who make up your in-house team.
This often leads to bad decisions, time slippages, slip shop implementations and long term technical debt. This may hamper your product's ability to break through and achieve success.
Wouldn't it make sense to have a fully focused team working on your product?
Outsourcing product development provides this. The outsourced agency's team is fully focused on your product since that's what they are engaged to do. You get the benefit of not just their expertise but also their full attention.
Good agencies will produce program and project reports and status updates on a weekly basis so that you are always in the know and able to make informed decisions, keeping control while having a single-minded focus from your outsourced team.
4. Product – success mindset
A successful product goes through multiple iterations. The original concept or feature set may not be the one that clicks with their users.
Thus, it is important to start with a minimal set of features (minimum viable product or MVP) and, rapidly, put it in front of your users.
Now, let the user's behaviours and usage patterns drive additional decisions on what is working, what needs tweaking and what needs to be discarded. This is called a product-market fit.
Your team needs to be tuned into this approach. The idea is to minimize the cost of each learning iteration so that you can have multiple iterations in the product budget.
A good outsource product development agency brings this mindset to the table. The team should help evaluate what's in the MVP, what decisions should be made for experimentation versus what decisions should be made as building the longer term foundation.
The team should be able to quickly change directions based on user usage and learnings. In other words, the team needs to be nimble. This product success mindset is critical to the success of your product.
5. Speed to market
Once a product idea takes shape, it is critical that you get a version to market as fast as you can.
Being able to deploy a fully functioning team rapidly, with the right expertise, the focus and the product iteration methodology is your best bet to get your product to market in the fastest time.
This speed to market is a huge advantage in engaging a good product development agency. The alternative is to set about hiring a rock-star internal team which may result in a longer process. This long process takes away from the actual iterations that successful products have by having real users use the product and learn from their behaviours.
6. Cost reduction
According to a key finding of the Deloitte Global Outsourcing Survey 2020,
"In past, many people in the industry stated cost reduction as a secondary benefit behind other objectives, such as increasing agility or improving the quality of service. However, in 2020, results show a sharp increase in the number of organizations giving priority to cost reduction, and in the face of a likely pandemic-induced global recession, this number will get higher."
It might seem counter-intuitive, but the recruitment and retention of product development employees may cost the organization much more than hiring a capable outsourcing company or partner.
With outsourcing, you get very talented resources working on your product only to the extent they are needed.
For instance:
A part-time CTO gets you solid technical strategy and leadership without having to pay an arm and a leg and parting with a chunk of stock options.
You can tap into multiple technology architects with expertise varying from machine learning to high volume, low latency systems, to choosing technical stacks at the cost of less than one full-time architect.
UX designers can come in and help create the experience design for each release without having to be retained as full-time staff.
Teams can scale up rapidly and scale down when not required.
Add to this an offshore component and you have real cost advantages. This not only broadens the scope of talent on the team but also strikes the perfect balance between skill and rates. You get tremendous cost reduction and productivity using a product development agency to build your product.
7. Free you up to focus on your core business
The core parts of your business include business strategy, allocating funds, marketing, sales, product management and product development.
Why not get a team to handle the most time-consuming aspects such as product development so that you can focus your mindshare on the core business? This is a recipe for a successful product.
"The important thing about outsourcing or global sourcing is that it becomes a very powerful tool to leverage talent, improve productivity and reduce work cycles."

— Azim Premji
8. Intellectual property protection and generation
One area of anxiety with outsourcing your product development is the protection of intellectual property. However, with a good product development agency, this fear is unfounded. Good partners have solid agreements that spell out how they manage the client's intellectual property.
The key parts of this are:
Intellectual property that the client brings in is secured and protected (through operating practices such as VPNs, secure laptops, access control and so on, and contractual agreements with the client and with the employees who have access to the property)
Intellectual property created by the agency within the course of performing services is owned by the client. The agency even helps in filing patents and copyrights.
Any intellectual property brought in by the product development agency is clearly articulated and the client is provided with a royalty-free perpetual license or an option to not use the IP.
In other words, not only is your IP secure, you actually get a boost in creating new IP with talented teams.
Key takeaway
Most businesses assume that cost reduction is the only key benefit of outsourcing product development. Consequently, they end up taking the longer route to success and lose out on the numerous benefits.
Outsourcing product development has its pros and cons like every other practice. The cons can be summarized into three major concerns which include – feeling of loss of control, fear of security and IP ownership and fear of loss of company culture.
The answer to most of these concerns can be found in the numerous benefits discussed in this blog and in your choice of an outsourcing partner.
Thus, finding an outsourcing partner that is in line with your vision is crucial for your success.
Ignite solutions as an outsourcing partner:
We're design-thinking product development experts, enabling entrepreneurs to build their concepts into a successful business and convert their ideas into launchable products. We offer UX Design, CTO-as-a-service and Product Development. Your product strategy, your vision, and your goals matter to us and we're in it for the long haul with you. We take full responsibility for our work and also feel a sense of ownership towards your product. We'll go the extra mile to ensure you succeed.